About SICF
Organized by Spiral in Minami-Aoyama, Tokyo, since 2000, Spiral Independent Creators Festival (SICF) aspires to discover, cultivate and support emerging artists and designers. It showcases the wide-ranging work of creative talent selected from an open call, offering visitors unique chances to encounter exciting new art.
The festival ends with the announcement of various awards, including "Audience Award", which is given to the exhibitor who receives the most votes from visitors, as well as "Grand Prize", "Semi-Grand Prize", and judges' awards, selected by a jury of leading figures in the creative industries. In addition to the regular booth-style EXHIBITION, the 20th iteration of SICF will also feature PLAY, a performance section. SICF20 welcomes submissions of diverse creativity presenting fresh values and ambitious visions that transcend conventions.
---
EXHIBITION Application Requirements
SUBMISSION
November 16th (Fri) , 2018 ― February 8th (Fri) , 2019
※Application form will open on this page on November 16th .
ELIGIBILITY
(1)All creation genres, ages, and nationalities are eligible.
Each participant must be present at booth at all times during the exhibition.
(2)Participation either as individual or as group.
HOW TO APPLY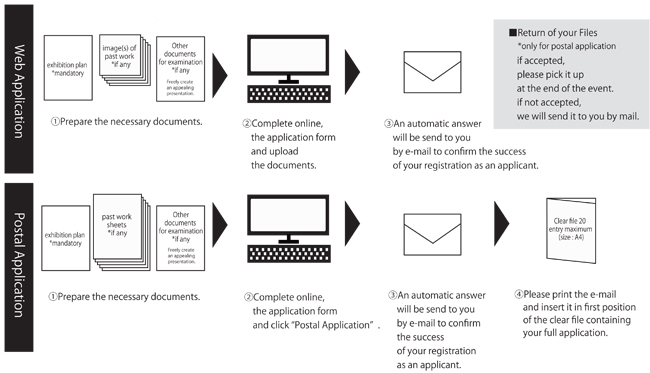 Download exhibition plan(PDF)
Download past work sheet ※For postal application only
SELECTION
The selection will be announced at the beginning of March and the list of SICF participants will be published on SICF official website in mid-March.
Those who passed the screening process will be able to participate in SICF20.
SICF20 Spiral Independent Creators Festival 20
 EXHIBITION
DATES
Group A May 1st and 2nd, 2019, 11h00 – 19h00 (50 exhibitors)
Group B May 3rd and 4th, 2019, 11h00 – 19h00 (50 exhibitors)
Group C May 5th and 6th, 2019, 11h00 – 19h00 (50 exhibitors)
VENUE
Spiral Hall (Spiral 3F)
5-6-23 Minami-Aoyama, Minato-ku, Tokyo, Japan
107-0062
Omote-sando Sta.(Ginza-line,Chiyoda-line,Hanzomon-line)B1,B3 Exit
Access Map
BOOTH CHARGES/2days 
¥43,000(tax included)
[Electricity fee] ¥10,000 (tax included) ※Up to 1500 watt/day
※Power supply for artworks, PCs, etc. is available with electricity fee above.
※Lighting for each booth will be provided by the organizer. If you plan to prepare lighting equipment
for your artwork(s) individually, please apply for the electricity fee above.
BOOTH
H2,400×W1,650×D1,650mm
Booth walls: White
50 booths will be set up inside Spiral Hall.
PRIZE
・Grand Prize
Solo Exhibition at Spiral plus ¥500,000 covering production expenses.
Coverage in "Spiral Paper" (Spiral's promotional publication)
SICF20 Winners Exhibition
・Semi-Grand Prize
SICF20 Winners Exhibition
・Audience Award and Judge's Awards
SICF20 Winners Exhibition
*Judges will be announced at a later date on SICF official website.
SICF20 Spiral Independent Creators Festival 20
  PLAY