SICF21 online viewing has been released on October 1st (thu)

This online viewing gives a 360-degree view on each booth of "SICF21" (the 21st Spiral Independent Creators Festival) held from September 19th (Sat) to 22nd (Tuesday / NH).
Release period: about 1 year from October 1st (thu), 2020
Produced and supervised by: ARCHI HATCH / Yuta Tokunaga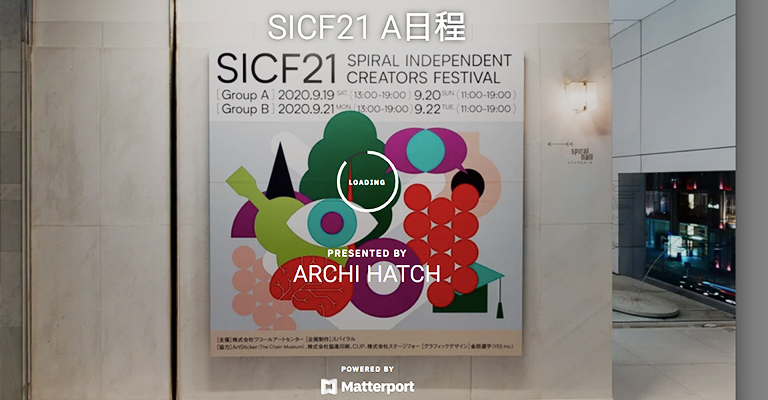 A日程

B日程
21st Spiral Independent Creators Festival
---
EXHIBITION
[Group A]
19 (Sat), September 2020    13:00 ‒19:00
20 (Sun), September 2020      11:00 ‒19:00
[Group B]
21 (Mon / NH), September 2020   13:00 ‒19:00
22 (Tue / NH), September 2020   11:00 ‒19:00
※[Group A]42 exhibitors、[Group B] 43 exhibitors.
※ Each exhibitors will present their works on both days of their group. 
VENUE
Spiral Hall (Spiral 3F)
ENTRANCE FEE
[Adult] ¥700 (1 day pass)
[Students] Free for students who like or follow SICF on Facebook, Twitter and Instagram (presentation of the student card mandatory)
※ Tickets are only necessary to see the exhibitions in Spiral Hall (Spiral 3F), satellites events viewing are free of charge.
※ Advance reservation required. Please specify the date and time of entry and purchase a ticket from Peatix.
https://sicf21.peatix.com (page in Japanese)
Online Award Ceremony
22 (Tue / NH), September 2020   20:00 ‒ 21:00
Spiral Youtube Channel(http://www.youtube.com/c/jpSPIRAL)
Judges 
Keiko Tanaka/textile designer, minä perhonen
Sachiko Namba/ contemporary art curation
Chiaki Hayashi/CEO, Loftwork Inc.
Kaoru Mochizuki/Editor in chief, BTCompany CO.,LTD
Ikuko Kato/Spiral Gallery Chief・Curator

List of Awards 
Grand Prize(1), Semi-Grand Prize(2), Jury Awards(4), Spiral Prize(1), Audience Award(1)
Online Viewing
To present you with the experience of SICF21, a 360° tour of the exhibition will be shared online after the end of the festival.
Publishing schedule :
SICF21 :
1 (thu) October 2020   11:00~ (Duration: 1 year)
SICF20 Winners Exhibition :
19 (sat) September 2020 11:00~ (Duration: 1 year)
Free and unlimited access
We will publish the link on this page.
Event inquiries
03-3498-1171(Spiral)
5-6-23 Minami-Aoyama, Minato-ku, Tokyo SICF Office
TEL : 03-3498-1171
Organized by Wacoal Art Center
Planned by Spiral
In cooperation with ArtSticker (The Chain Museum), KYOSHIN PRINTING CO. LTD., CLIP, Stage 4
Graphic design by Ryohei Kaneda(YES Inc.)
Business hours and operating methods may change due to measures against the spread of Covid-19. We ask all visitors to cooperate with our staff and to  comply to our safety measures. The latest information will be announced on this page.
---
Request to prevent the spread of COVID-19
・Customers who visit the site will be subject to temperature measurements.
・Customers with a temperature of 37.5 degrees or higher, may not be able to enter the venue.
・Please refrain from visiting if you feel unwell or have a fever.
・Please wear a mask when visiting.
・If we receive a request from a public institution such as a public health center, we may provide them with your ticket reservation information.

Measures to prevent the spread of COVID-19
・Exhibitors and staff will regularly measure their temperature and wear masks at all times.
・Spiral staff will maintain an appropriate distance with our visitors.
・The disinfection procedure is strengthened in the area often touched by customers.
・Through air conditioning the air will constantly be renewed.
・Spiral business hours may change due to COVID-19. The latest information will be notified on Spiral Business Hours Notification page.
---
About Spiral
Spiral is a cultural facility complex opened by Wacoal Corporation in Aoyama, Tokyo, in October 1985 with the aim of operating commercial culture-related activities.
Spiral accommodates a variety of spaces that can be used for different activities, including an art gallery, a café, a multipurpose hall, restaurants and bar, a store selling lifestyle items and gifts, and a beauty salon. The building and its activities are managed by Wacoal Art Center, an affiliate of Wacoal Corporation.