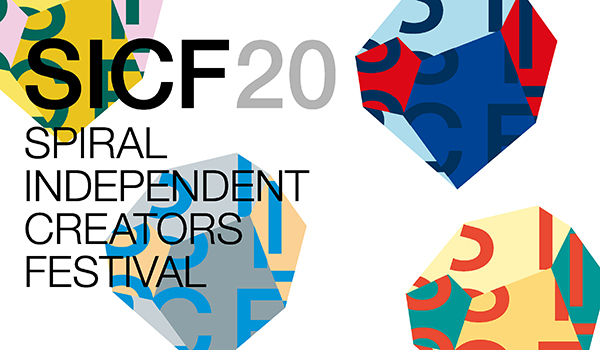 20th Spiral Independent Creators Festival
---
EXHIBITION
DATES
Group A : May 1st and 2nd, 2019, 11h00 – 19h00 (50 exhibitors)
Group B : May 3rd and 4th, 2019, 11h00 – 19h00 (50 exhibitors)
Group C : May 5th and 6th, 2019, 11h00 – 19h00 (50 exhibitors)
VENUE
Spiral Hall (Spiral 3F)
ENTRANCE FEE
Adult 1 day pass ¥700 / 3 terms pass ¥1200
Students: Free for students who like or follow SICF on Facebook, Twitter and Instagram (presentation of the student card mandatory)
* tickets available for Spiral Hall and Spiral Foyer (Spiral 3F) only
*The entrance is free for junior high-school students and under
---
PLAY
DATES
Group Ⅰ:May 4th, 2019, 13:00 – 17:30(10 performers)
Group Ⅱ:May 5th, 2019, 13:00 – 17:30(10 performers)
VENUE
Spiral Garden (Spiral 1F)
Admission Free
---
AWARD CEREMONY
The award ceremony will take place on Monday, May 6th 2019 (20: 00-21: 00). At this occasion the winners, of the Audience Award (determined by the visitors' vote), of each judges award, of "Semi-Grand Prize" and "Grand Prize". SICF will then publish a message with the judges' general comment.
"EXHIBITION" PRIZE
・Grand Prize
Solo Exhibition at Spiral plus 500,000 yen covering production expenses.
Coverage in "Spiral Paper" (Spiral's promotional publication)
SICF20 Winners Exhibition
・Semi-Grand prize, Audience Award and Judge's Awards
SICF20 Winners Exhibition
"EXHIBITION" JUDGES
Kodama  Kanazawa  l Curator, contemporary art
Mitsuru Kuramoto l Broadcast Writer
Kaoru Sugano l CDC / Dentsu Lab Tokyo
Yoshie Ota l Chief Curator, Spiral
"PLAY" PRIZE
・Grand Prize
Development with Spiral of an original work (production assistance up to 150,000 yen)
SICF20 Winners performance
"PLAY" JUDGES
Yoshie Kris l Director, SLOW LABEL
Yamashiro Daisuke | Artist, Video Director
---
Organized by Wacoal Art Center
Planned by Spiral
Inquires
5-6-23 Minami-Aoyama, Minato-ku, Tokyo SICF Office
TEL : 03-3498-1171
Access
5-6-23 Minami-Aoyama, Minato-ku, Tokyo, Japan  107-0062
---
About Spiral
Spiral is a cultural facility complex opened by Wacoal Corporation in Aoyama, Tokyo, in October 1985 with the aim of operating commercial culture-related activities.
Spiral accommodates a variety of spaces that can be used for different activities, including an art gallery, a café, a multipurpose hall, restaurants and bar, a store selling lifestyle items and gifts, and a beauty salon. The building and its activities are managed by Wacoal Art Center, an affiliate of Wacoal Corporation.